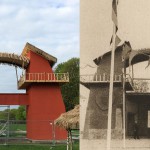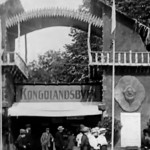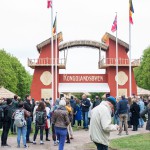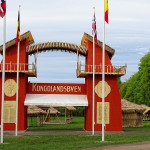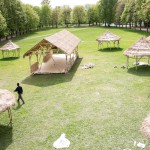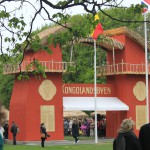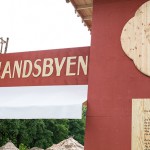 So called Human zoos were in general seen as giving important educational experiences and in Oslo it played a key role in an exhibition that marked an important stage in the building of Norway's national identity.
Our project was about the rebuilding of a historic village, partly as a physical installation but perhaps more so in the public imagination.
When eliciting a public discussion in which all perspectives feel a need to participate you can't dictate the terms of the discussion; the more you provide the less you get. The result stands as one of the most publicly discussed contemporary art projects in Norwegian art history.
Pretty much no one we talked to had ever heard about this part of the 1914 Oslo fair (even if they had heard of "human zoos" in other countries). Given how popular the exhibition was (1.4 million visitors saw it at a time when the population of Norway was 2 million) the widespread absence of at least a general knowledge was surprising.
The 100 year anniversary of the Oslo human zoo was around the corner and because of the impotency of archival images, we suggested the idea that we would re-build the village. We wanted to investigate the linear or non-linear (whatever the case may be) connection between the messages of racial superiority that lined the intentions of the human zoos in the past to a more contemporary idea of superiority scandinavian goodness.
The specific Nordic national branding has come to include the promotion of a people that are not only naturally good but also more tolerant and liberal than most. When quantifying humanitarian goodness the paradox is inherent in the advancement, how can anyone be equal to the most equal? Certainly, the neo right uses humanitarian bravado and liberal tolerance as an argument for cultural and racial exclusion.
Following the discussions around cultural, ethnic and national identity during the few years we've lived in Norway, the circular patterns in the media have become apparent. The discussions are usually triggered by an incident of one kind or another followed by a series of petulant commentary that tend to provide a set form of arguments, the same questions and the same answers, chewed through and never really digested only to be repeated in the same unresolved manner again. We should really rethink this format, we should consume all the old questions and try to pursue new ones without falling into a trap of bumptiousness.
In the scope of this project we wanted to discuss what purpose a reenactment can serve, how it is made relevant for us today in order to gain new knowledge that addresses the issue of spectatorship both in 1914 and in 2014.
Europe is becoming increasingly xenophobic, closing its borders and utilizing draconian law. We need new perspectives and approaches. We can't discuss racism without discussing structural racism embedded within the system and of course Norway's role in a global economy.
Project site here